Timmins Chooses Caenby Corner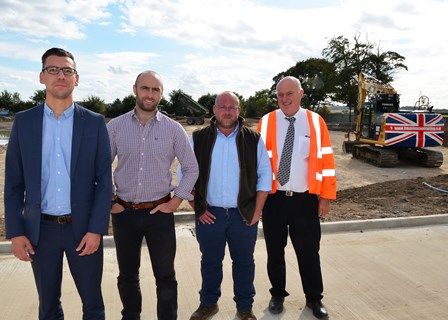 Banks Long & Co has sold a 1.3 acres plot at Caenby Hall Business Park, fronting the A15 near Caenby Corner, to Timmins Engineering & Construction Ltd, where the firm is going to build its new headquarters.
Timmins is currently based in Tillbridge Lane at Sturton-by-Stow, where it directly employs 14 people and sub-contracts another 14, but its growth promises to open the door to up to six new jobs over the next six months.
Further good news could follow on the employment front, because there are plots of between half-an-acre and 3.5 acres still available.
The overall Complex extends to 13 acres and is already home to a range of office and other commercial accommodation.
Fox (Owmby) Ltd owns and occupies the majority of the business park. Managing Director Stephen Fox said: "We consulted West Lindsey District Council planners regarding our vision for expansion of the complex and are now looking to develop the site for complementary uses.
"The sale to Timmins marks the first stage and, obviously, having done this deal, more good news could follow."
Timmins Engineering and Construction manufactures steel buildings, from its site on Tillbridge Lane in Sturton-by-Stow. The family business provides design and build solutions for farmers and industrial companies.
Director Edward Timmins said: "Our current premises extend to 600 square metres and we have outgrown them. We are going to put up our own 1,320 square metre building, which has already been named as Innovation Works, Caenby Hall Business Park. We will obviously have more than double our current accommodation.
"We have got the necessary planning permission from West Lindsey District Council and have started on the groundworks. We hope to be ready for a smooth transfer to our new premises by Christmas.
"The biggest problem at the moment is fitting building our own premises around our current workload. We have customers in Yorkshire, Nottinghamshire, Cambridgeshire and Norfolk, as well as locally, and we have just recruited a new Company Director, David Starling to assist with taking the company forward."
Banks Long & Co Director William Wall said: "The Caenby Hall Business Park occupies a prominent position, with direct access from the busy A15. The location also offers good links to the Humber ports and wider East Midlands.
"There is a lot of activity along the A15 corridor, with the expanding Bishop Burton Agricultural College and other developments at the Lincolnshire Showground, plus the proposed remodelling of Riseholme Campus.
"This has created increased interest from relocating businesses, particularly those looking for cost-effective alternatives to Lincoln, Scunthorpe, Market Rasen and Gainsborough. Further announcements should follow shortly."
Photograph: L to R: Banks Long & Co Director William Wall, Timmins Engineering & Construction Directors David Starling and Edward Timmins, and Fox (Owmby) Ltd Managing Director Stephen Fox on the site of Timmin's new premises.