2020: 'But Don't Look Back In Anger'The Last 12 Months At Banks Long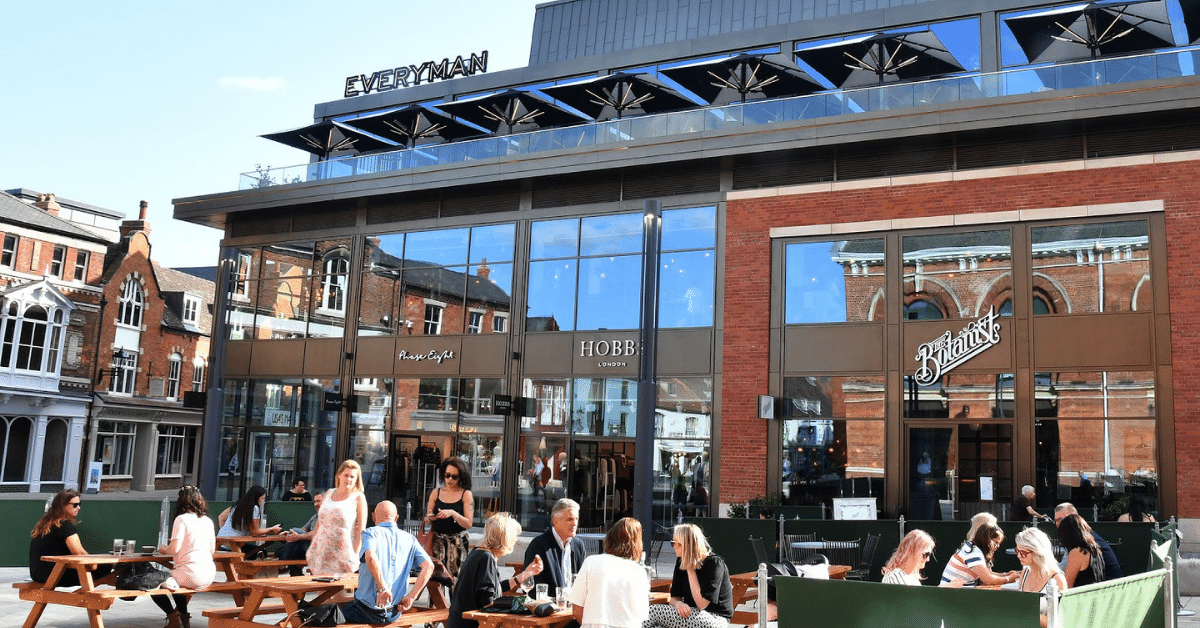 2020 will go down in history as an exceptionally tough year for people and businesses all over the world, and we are no exception. However, the difficulties of the last 12 months make it all the more important to celebrate the many positives 2020 has also brought.
From new shops and restaurants to highly-anticipated development and regeneration projects, our clients continue to make progress, bringing a wealth of opportunities to communities across the United Kingdom.
Over the last year, our team have created, managed and completed a variety of projects across the UK, working with a diverse range of clients and sectors.
Here are some of the positive stories from 2020, with our clients enjoying commercial success and positive feedback from the public, over this extraordinary year.
Contents:
The Cornhill Quarter: Experiential Shopping is the Future
The World of Retail is Changing
Encouraging Numbers for the Commercial Property market
Building during a pandemic
Trade Sector Continues To Grow
Commercial Property Sector Creates New Jobs
Education and Healthcare
Public Sector
New Technologies
Looking Forward to 2021
The Cornhill Quarter: Experiential Shopping is the Future
Sitting at the heart of Lincoln's bustling city centre, the new Cornhill Quarter was welcomed with open arms by businesses and members of the public in 2020.
Covering in excess of 150,000 sqft (almost double the size of St. Paul's Cathedral), the £70m project represents the city's most significant retail development in recent times.
2020 was a difficult year for the High Street, with the wide-ranging impact of coronavirus and lockdowns causing "significant financial distress" to almost 40,000 retailers. This struggle has underlined the importance of 'experiential retail', where shoppers are given an immersive and shareable experience, rather than one that is purely transactional.
"Experiential shopping is now more important than ever," says Tim Bradford, Managing Director at Banks Long & Co. "Projects like the Cornhill Quarter offer easy parking, food & beverage, a wide variety of national and local retail, a cinema and health and fitness facilities, all of which transcend the standard, covered shopping centre experience.
"If you choose the right operators, focus on the experience, and improve the public realm, the project will prosper long into the future. That's why the Cornhill Quarter continues to attract better-quality local and regional brands."
Banks Long & Co have worked closely with our client, the Lincolnshire Co-op, from the start, assisting with land acquisition, development consultancy, project management, quantity surveying, commercial property agency and once the tenants were onsite ongoing property management.
Our team has helped introduce a wide range of popular and established tenants to the Cornhill Quarter, laying the foundations for a prosperous future for Lincoln, a forward-thinking city that continues to grow and move forward, despite the obstacles the last 12 months have presented
Welcoming new businesses
In spite of what has undoubtedly been a tough year for retail, throughout the summer, we supported the introduction of several new arrivals to Lincoln's Cornhill Quarter, facilitating the leasing contracts, fit-outs and openings of the following brands:
"We feel so privileged to be able to announce the opening of our very special venue in Lincoln," Crispin Lilly, CEO of Everyman Cinemas told East Midlands Business Link in August. "We think we've achieved something very special in Lincoln".
Ursula Lidbetter, Lincolnshire Co-op's Chief Executive agreed, calling the arrival of The Botanist and Everyman Cinema "a game changer" for the city.
Meanwhile, Kate Freeley, owner of k.fines, told the Lincolnite: "Lincoln is rich in history and full of independent and high-street brands. The historic building was also a jewellers until the early 1970s, which makes it even more special."
Explore the Shop Directory to discover many more brands, shops and activities to enjoy and look forward to at the Cornhill Quarter.
Completing the Square
The new Exchange Square is the latest phase to be completed at the Cornhill Quarter.
As the main core of the retail and leisure development, the square is enveloped by a rich variety of well-liked brands, businesses, restaurants and venues, making it a popular destination for Lincoln residents and visitors.
"Shoppers say they are hugely impressed… and can't wait to enjoy alfresco dining and outdoor entertainment," Lincolnshire Live reported in July 2020.
Find out what other positive feedback and praise Lincoln residents have for the Square, here: Shoppers Give Their Verdict on New City Square
The World of Retail is Changing
The world of retail is changing, with emerging trends in human behaviour rapidly accelerating as a result of coronavirus. According to some estimates, the pandemic has sped-up the shift from physical to digital shopping by five years.
Meanwhile, the UK recently registered a record-breaking Black Friday in terms of online sales, with people more reliant on delivery, logistics and eCommerce companies than ever before, making the industrial market 2020's strongest-performing commercial property sector.
DHL and George H Kime & Co are two businesses well-prepared for such developments, with the former delivering well over 1.5 billion parcels per year. Both companies have secured leases with our Commercial Property team in the last 12 months, moving into the brand-new St. Modwen Park development.
St. Modwen Park is the largest speculative industrial and warehouse scheme ever delivered in Lincolnshire. Located on the A46 carriageway, it will offer the equivalent of over 5 football pitches-worth of commercial property space upon its completion in July 2021.
Encouraging Numbers for the Commercial Property market
The commercial property market continues to surge, which has enabled us to work with an amazing range of clients over the last 12 months. Last year, we valued over £370m worth of property, underlining the enthusiasm and positive outlook within the sector.
As well as St. Modwen Park, we are also supporting Lincoln's Bishops Trade Park and Valentine Retail Warehousing, the latter of which has just welcomed a new deal from our Building & Investment Consultancy division with British Land, the Property Development company behind Regent's Place, Meadowhall and Fort Kinnaird.
Building during a pandemic
Tattershall's Co-op food store reopened in June, marking the completion of an impressive six-year revamp plan.
Thanks to the hard work and inspiration of the Co-op team and everyone involved, the store was successfully refurbished between January and June 2020, completing on schedule despite any potential drawbacks and complications from the COVID lockdown measures.
"We've been getting lots of compliments on how it looks inside," Sarah Hutt, Store Manager, told The Lincolnite. "We know this store is important to the community and we'd like to thank them for bearing with us while this extensive project took place."
Our team project managed the refurbishment, ensuring every aspect of its construction and building work was completed efficiently, and that quantity surveyance was carried out throughout the rebuild.
The new Co-op has a traditional wooden shop front to complement Tattershall's rich marketplace history. Customers can now also enjoy a delicious in-store bakery, cash machine and Costa Coffee machine.
Trade Sector Continues To Grow
With the pandemic causing people to spend more time at home than ever before, we saw a massive increase in DIY and trade.
Many construction and trade companies are thriving throughout the pandemic, including Screwfix and Toolstation, both of which opened new stores in Lincoln after striking deals with our team last year, bringing more jobs to the city.
Commercial Property Sector Creates New Jobs
Unemployment was at its highest in 20 years in parts of Lincolnshire last year. In the East Midlands, the unemployment rate rose from 0.3% to 4.4% between June and August 2020. However, our clients' impressive, emerging commercial developments are expected to create new opportunities and roles across the UK.
Newark's new Travelodge, for example, will create 70 new jobs in the area upon its completion in February 2021.
The £6.6m development signals the completion of the Beaumond Cross quarter in the town centre, and will replace the derelict Robin Hood Hotel, which Councillor and leader of Newark and Sherwood District Council David Lloyd labelled a "blight on the town".
"These are really exciting times, with really promising town centre developments," he told Nottingham Post.
The 66-bedroom building is not the only hotel our team has helped to build in recent months. Elsewhere, in St. Davids, Wales, our Building and Investment specialists have forward-funded the construction of a New Premier Inn development, which includes a 63-bedroom hotel and restaurant.
Education & Healthcare
Education and healthcare have been at the forefront of an unprecedented and difficult year, with COVID dominating the headlines and highlighting the tireless efforts of the NHS, healthcare staff, and educators.
The Banks Long team continue to be proud to support several medical and educational projects, aiding the first-class efforts of establishments such as the David Ross Education Trust, Newark College, North Lincolnshire and Goole NHS Foundation Trust, and a large number of doctors surgeries and primary care facilities.
Public Sector
The public sector has been supporting businesses throughout the pandemic, including North Kesteven District Council (NKDC), who have assisted local SMEs across the region over the last 12 months.
We continue to support NKDC, having been awarded a contract to manage their commercial property portfolio in July 2020. This includes a new development comprising 15 units specifically tailored towards new and growing businesses.
"High quality commercial property is key to the growth of our District, and so we've worked hard over the years to create space for businesses as part of our overall package of support for the local economy," said NKDC Council Leader Richard Wright.
"If there is a supply of suitable and well-managed premises for businesses to start up and grow into, then new jobs are created and North Kesteven flourishes. We are delighted to award this prestigious contract to Banks Long & Co and look forward to working with them."
Upon winning the contract, Banks Long Associate Director Sarah Pettefar said: "We believe our success reflects the quality of the service we provide to our existing clients and the property management expertise we can offer to North Kesteven District Council."
New Technologies
2020 saw the introduction of virtual tours at Banks Long, with interested parties now able to explore buildings and sites safely and thoroughly via this interactive technology. We have also made full use of aerial drone footage to offer trusted local providers panoramic views of entire sites and their surrounding area.
"The use of virtual tours has been a key change," says James Butcher, Director at Banks Long. "It has enabled us to improve our service offering and maintain continuity during what has been a difficult time for so many businesses and industries."
Looking forward to 2021
This has been an extraordinary, unprecedented year, with many unexpected obstacles and difficulties, coincided with plenty of accelerated growth and unpredictable positives across many of the industries we work with.
"The last 12 months have certainly had their obstacles, but thanks to the positivity of our clients and the continued optimism in the commercial property sector, there is no reason why we can't all bounce back quickly and enjoy a prosperous 2021," says our Director William Wall.
We have been very proud to support some of the best and worst-hit sectors over the last 12 months, supporting the growth of the thriving industries, as well as supporting and laying the necessary foundations for those working hard to thrive once more.