ACCELERATION OF THE STRUCTURAL CHANGE IN UK RETAILING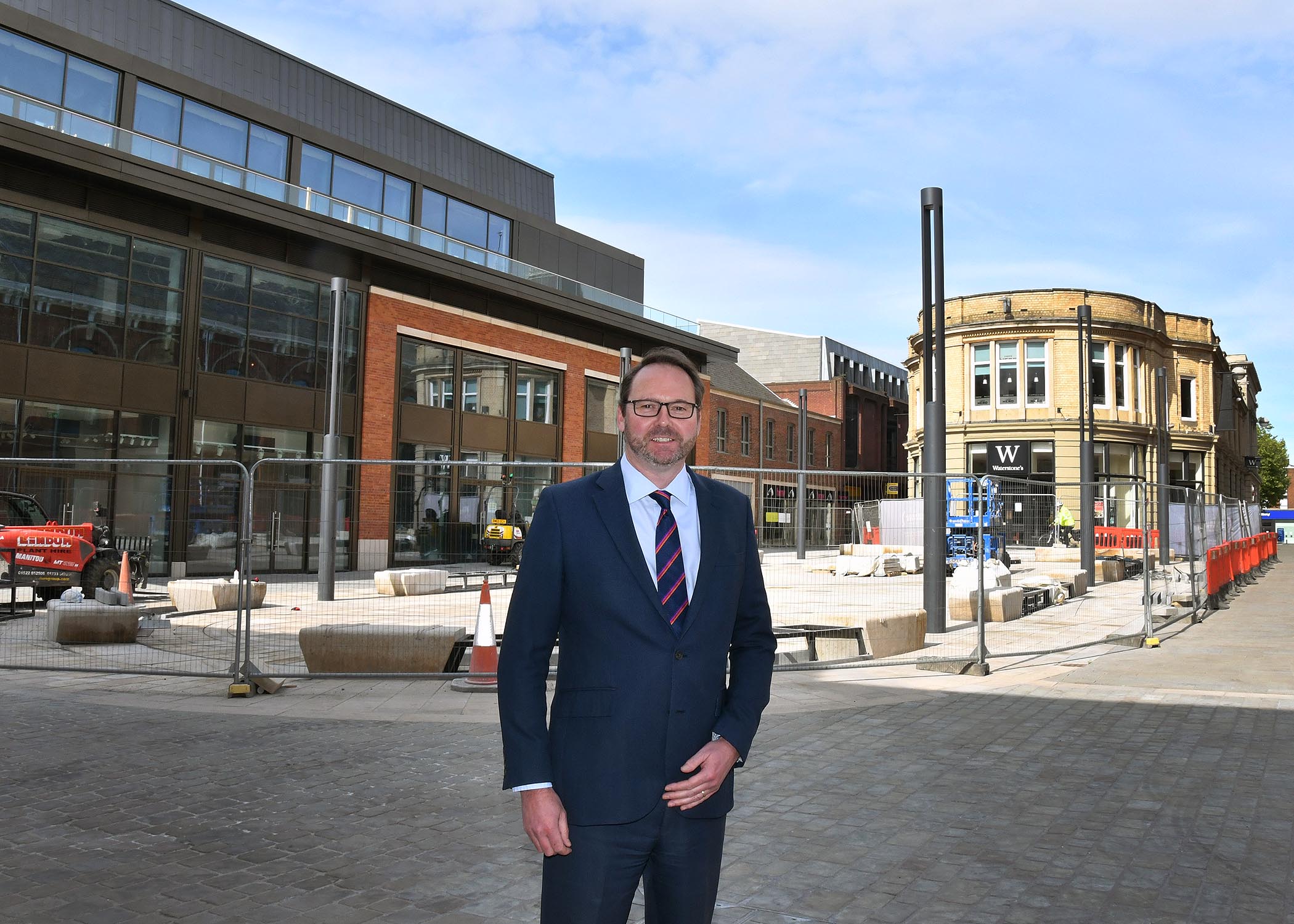 As work resumes and traders such as 200 Degrees Coffee begin re-opening within the Cornhill Quarter redevelopment in Lincoln City Centre, Banks Long & Co Managing Director Tim Bradford shares his thoughts on the future shape of towns and cities.
A few months ago, I wrote about the structural changes within the retail market in town and city centres, comparing the changing scene to the industrial revolution in Victorian times.
2019 was the year of the CVA – we lost lots of household retail names from the High Street.
Sadly, 2020 will be remembered for Covid-19. In the retail sector, the impact of the lockdown, will trigger changes to which will reshape the way town centres operate for decades to come.
There are obvious questions. Could a positive come out from such a negative event? Was the well-established town centre retailing model already broken to the point where it simply could not be repaired?
Structural change had set in. We were predicting that, over a three-to-five year period, town centres would be unrecognisable. Landlords would need to rethink their approach to owning shop property and their relationship with their tenants.
Covid-19 has effectively accelerated the inevitable demise of the post-war High Street model.
We are now entering the post-Covid period - a period which we would have reached through a slow and painful process in the absence of the horrific worldwide pandemic.
Some people, including myself, could argue that this is a positive. Whilst the next six-to-12 months will see an exaggerated repositioning within our much loved High Streets, centres which grasp the opportunity for change - re-purposing, looking ahead and embracing what will be the "new normal" – will be the centres where investment will quickly return and tenants will thrive by working hand-in-hand with their Landlords.
World-famous, and highly successful investor, Warren Buffett, once said "It's only when the tide goes out that you discover who's been swimming naked".
I believe the tide is as far out as it could be in modern day free-market terms. Lots of businesses, many retailers and food and beverage companies will be lost. Business will return, but the retail scene will look different.
In Lincoln, Lincolnshire Co-operative has, for over five years, recognised the direction of the tide. Rather than investing for the short term, the Society's strategy has been to invest for the long term. The success of the Cornhill Quarter, Lincoln, www.cornhillquarter.co.uk, is testament to the emerging shape of tomorrow's city centres.
Banks Long & Co, surrounded by a group of like-minded advisors to the Co-op, has been fortunate to be part of the regeneration of Lincoln's Cornhill and Sincil Street areas - a scheme which before Covid-19 was being referenced as an example of the new dawn for the re-purposing of town centres.
Open air, attractive street frontages, quality public realm and a mix of quality occupiers bring an added and varied dimension to the town centre visitor experience.
Attracting the likes of Everyman Cinema, The Botanist, Seasalt, 200 Degrees Coffee, Flying Tiger, Neon Sheep and the, shortly to open Whistles, Hobbs and Phase Eight, has been an achievement which - coupled with small independent traders - will allow the Cornhill Quarter to continue expanding beyond Covid-19.
What about the future? Consumers' familiarity with online services will increase the impact of online retailing on bricks and mortar. Occupiers' floorspace space requirements will reduce, but traders which embrace the principle of remote consumption will continue to have a place on the High Street.
Why do I say that? The consumer will move away from their hunger for more, more, more and begin to appreciate the quality of the overall experience. Town centres should seek to provide a theatre which plays to all of our senses.
It will not just be about "click and deliver" or "click and collect", but the consumer will want to blend this with a desire to improve their experience through choosing quality traders who understand their audience, to eat and drink in a wide range of differing establishments and spend time, once we are able to do so, with their friends.
Town centres have a key role in stitching back together the social fabric of this country. Landlords and tenants must unite. Centres will inevitably contract, town centres will become the home for a population wanting to grasp an ethical and sustainable way of life – living, working and socialising within walking distance of a main centre will become more attractive to an age group which understands the need to become much more environmentally aware.
Consumerism will be replaced by the provision of a quality, diverse experience.
As I said in 2019 – "The High Street is dead – long live the High Street".